WWII, 15th ARMY AIR FORCE, AAF, BULLION PATCH, THEATER MADE, ORIGINAL, VINTAGE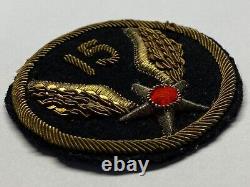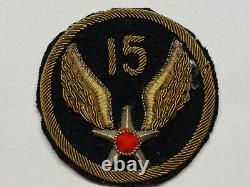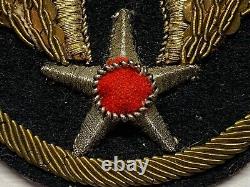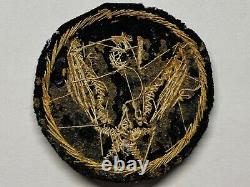 WWII, 15th ARMY AIR FORCE, AAF, BULLION PATCH, THEATER MADE, ORIGINAL, VINTAGE. This was made in Italy during the occupation period. This theater made bullion patch measures approx.
A few small moth nips near the upper most part of the wing. Wonderful patina on the bullion. This was removed from a collector's display board and shows evidence of glue residue on the reverse. Other-wise a very nice historical patch. Fifteenth Air Force (15th AF) was established on 1 November 1943 in Tunis, Tunisia as part of the United States Army Air Forces in the World War II Mediterranean Theater of Operations as a strategic air force and commenced combat operations the day after it was formed. The first commander was General Jimmy Doolittle. 15th AF resulted from a reorganization of Doolittle's Twelfth Air Force into the 15th with Doolittle in command, and the Ninth Air Force (9th AF) with Lewis H. The new air force was activated with a strength of ninety B-24 Liberators and 210 B-17 Flying Fortresses, inherited from the Twelfth Air Force and Ninth Air Force. In December, new groups, most of which were equipped with B-24s soon started arriving from the United States. 13 new groups were added.
It was hoped that the 15th AF - stationed in the Mediterranean - would be able to operate when the Eighth Air Force (8th AF) in England was socked in by bad English weather. The 9th AF would later move to England to serve as a tactical unit to take part in the invasion of Europe. Once bases around Foggia in Italy became available, the 15th was able to reach targets in southern France, Germany, Poland, Czechoslovakia, and the Balkans, some of which were difficult to reach from England.
The 15th Air Force began its operations on 1 November 1943, attacking the Rimini Marshalling yard. On 1 December 1943, the Headquarters was moved to Bari Airfield, Italy. On 4 January 1944, the Fifteenth, along with Twelfth Air Force, were organized into Mediterranean Allied Air Forces, along with the Royal Air Force 205 Group. MAAF was the southern component of U.
Strategic Air Forces, Europe, the overall USAAF command and control organization in Europe. The first major operation carried out by Fifteenth Air Force was bombing missions in support of the Anzio Landings in Italy, Operation Shingle beginning on 22 January 1944. Strikes on German and fascist Italian targets were carried out and caused widespread damage to Axis forces. "Big Week" was the name of an intense Eighth and Fifteenth Air Forces series of attacks on Germany in a series of coordinated raids on the German aircraft industry. The plan, code-named "Operation Argument, " was to use both American strategic air forces in Europe, with support by the Royal Air Force with night bombing raids to destroy or seriously cripple the German ability to produce combat aircraft. The Americans were facing strong Luftwaffe fighter opposition to their daylight bombing raids over Nazi-occupied Europe, and it was planned to initiate Operation Argument at the earliest possible date. On 22 February 1944, Fifteenth Air Force made its first attack on Germany, with an attack on Regensburg. The Fifteenth dispatched a force of 183 bombers to the Oberstraubing Messerschmidt assembly plant. Some 118 bombed with good results but fourteen were shot down. The next day the 15th sent 102 bombers to the Steyr ball-bearing works in Austria where they destroyed twenty percent of the plant. On 24 February, over 180 Liberators inflicted considerable damage to the Messerschmitt Bf 110 assembly plant at Gotha, losing 28 aircraft in the process. On 25 February 114 B-17s and B-24s were dispatched to Steyr again, but the force became separated and the Liberators bombed the Fiume oil refinery instead. Despite these losses, it was believed that the USSTAF had dealt the German aircraft industry a severe blow. In April, General Eisenhower ordered the USSTAF to attack German fuel production centers by striking both the oil refineries and the factories producing synthetic fuels. The 15th started the offensive on 5 April when it dispatched 235 B-17s and B-24s from Italy to transportation targets in the vicinity of the Ploie? The refineries were attacked again on 15 and 24 April, inflicting additional damage. Attacks on oil targets had assumed top priority by October and vast fleets of heavy bombers, escorted by P-38 Lightning and P-51 Mustang fighters, attacked refineries in Germany, Czechoslovakia and Romania. The P-51 escorts were able to establish an environment of air superiority, enabling the bombers to roam widely across southern and eastern Europe, attacking targets at Brux in Czechoslovakia, Budapest, Komárom, Gyor, and Pétfürdo in Hungary, Belgrade and other cities in Yugoslavia, and Trieste in north-eastern Italy. By June 1944, the 15th Air Force was bombing railway networks in southeast Europe in support of Soviet military operations in Romania.
Throughout the summer of 1944, Austrian aircraft manufacturing centers at Wiener Neustadt were bombed and oil producing centers were attacked. On 2 June, the 15th Air Force flew its first "shuttle" mission when 130 B-17s and P-51 escorts landed in Russian controlled territory after a raid in Hungary. Two more shuttle missions followed. In August, the 15th began attacking targets in Southern France in preparation for Operation Anvil, the invasion of Southern France.
Marseilles, Lyon, Grenoble, and Toulon were all attacked by B-24s and B-17s. A historic 15th Air Force operation mission occurred on 24 March 1945 when 666 bombers struck Berlin, Munich, and other German targets, as well as Czechoslovakia. The Berlin force was attacked by Me 262 jets that inflicted losses (ten bombers and five fighters) while the Mustangs claimed eight jets downed. Despite their speed, the German jets were too few and produced too late to stop the Allied aerial armadas from simply overwhelming the Luftwaffe and leveling their targets.
The last major effort came on 25 April when 467 bombers struck rail targets in Austria, severing communications into Czechoslovakia. The 15th's final bombing mission was flown 1 May when 27 B-17s attacked Salzburg rail targets. With the German surrender in Italy, 15th Air Force aircraft began dropping supplies over Yugoslavia and evacuating Allied prisoners of war.
A total of around 2,110 bombers were lost on operations by its 15 B-24 and six B-17 bombardment groups, while its seven fighter groups claimed a total of 1,836 enemy aircraft destroyed. The Fifteenth was inactivated in Italy 15 September 1945.