WW2 Army Air Forces Pilot Training Eagles Log Field Dos Palos Yearbook Class 43F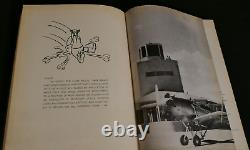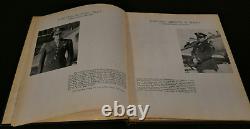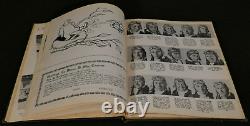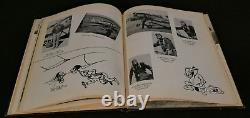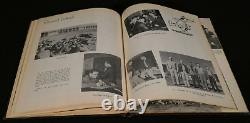 WW2 AAF Army Air Forces Pilot Training Eagle Field Dos Palos Yearbook Class 43F. WW2 AAF Army Air Forces Pilot Training Eagle Field California - Dos Palos 13th A. Yearbook Class 43F, 1943 a few cadet names penned in the front as shown - Overall Good Condition as Photographed with moderate wear and discoloration to the boards as seen - Recent Estate Acquisition & Presented as Acquired, Scarce. It was first activated on June 24, 1943 as United States Army Air Forces primary (level 1) pilot training airfield known as Dos Palos Airport.
It was assigned to the USAAF West Coast Training Center (later Western Flying Training Command), operated under contract by Coast Aviation Corp. The airport had three turf runways, aligned 00/18 (1,900 feet); 09/27 (1,900 feet), and 13/31 (2,300 feet). It had several satellite airfields in the local area for emergency and overflow landings. Hammond Auxiliary Field (location undetermined). Vail Auxiliary Field 36°46'12?
Dos Palos Emergency Field 36°50'35? Canal Field Auxiliary Field 36°56'34? Mason Auxiliary Field 36°43'50?
Flying training was performed with Ryan PT-22s as the primary trainer. Also had several PT-17 Stearmans and a few P-40 Warhawks assigned. It was inactivated on December 28, 1944 with the drawdown of AAFTC's pilot training program and was declared surplus and turned over to the Army Corps of Engineers. The base was then used as an aircraft storage depot for excess USAAF training aircraft, having UC-78s, PT-17s, Vultee BT-13/15, and AT-6 Texans.
Eventually it was discharged to the War Assets Administration (WAA) and is now from time to time used as a crop dusting airfield. After the war, the City of Dos Palos briefly operated a golf course on the site before the property reverted to the federal government. Eagle Field was in a short scene of the movie Indiana Jones and the Kingdom of the Crystal Skull. Check back often - we search estates and sources across the world to bring a fine selection of militaria. Please review all photos for details regarding the condition of the item listed - further condition information will be included in the listing as is relevant, if you need additional photographs or have questions regarding the condition please do not hesitate to ask. I describe all items to the best of my ability - please do not hesitate to ask any and all questions prior to the close of the listing.
Mistakes very rarely occur - however if one does please rest assured that it will be corrected.