OTH-660 The North Korean Armed Forces. Korean People's Army, Navy and Air Force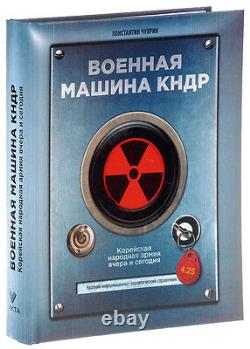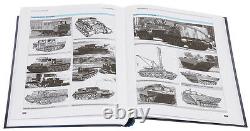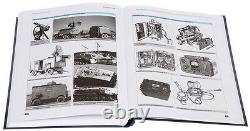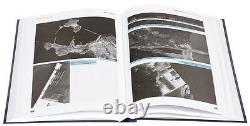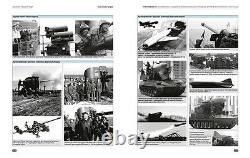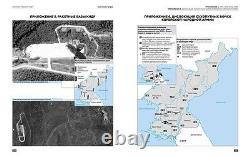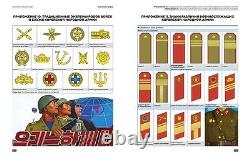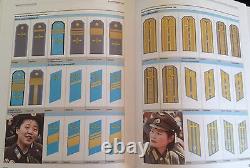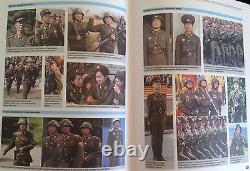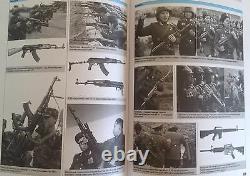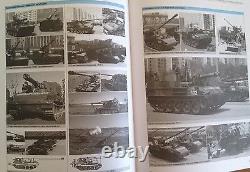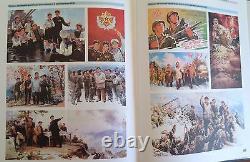 OTH-660 The North Korean Armed Forces. Yesterday and Today of Korean People's Army. Hard Cover, 548 pages, Format 205 x 260 mm, Text in Russian. This book describes the military doctrine of the DPRK, the development and current state of the Korean people's army and other security components of the state machine of the country on the background of the overall picture of the state of its society and economy.
Attracting a large volume of factual, including for the first time introduced into wide circulation of information and illustrative material makes the study particularly valuable. Each section of the Handbook, including visual information (hundreds of illustrations, including published for the first time), as well as dozens of informational tables, is quite self-sufficient in nature and can be used to study a variety of topics related to the history and present of the armed forces of North Korea. The edition is illustrated with photographs and drawings, including schematics of ships and auxiliary vessels of the Navy of North Korea. The book contains: 90 drawings of ships and vessels; 5 maps of strategic sites; 99 reference tables. Hundreds of photos and drawings of the flags, emblems, uniforms, insignia, awards, satellite images of military bases, virtually all types of military equipment and weapons from missiles to gas masks.
All that someone wanted to know about the North Korean army, air force and Navy, and with a huge number of illustrations. The tables of uniforms and insignia, miscellaneous symbols, weapons - from pistols-machine guns-machine guns-grenade launchers-flame throwers and hand grenades to protective kits and all sorts of radars, radios, etc.
Scheme of military ships, including a little-known boats for special operations and midget submarines, airplanes, helicopters DPRK even has the American helicopters at service! Moreover, the characteristics of the entire economy. There are a lot of satellite pictures of airfields and naval bases with explanation what was filmed, also provides the latest information on the armed forces of South Korea and the US army on its territory. General Geographical characteristics of North Korea 2.
Demographic and ethnographic characteristics of North Korea 3. The political system of the DPRK and the features of social life 5. State symbols of the DPRK 6.
General characteristics of the North Korean economy 7. North Korea's Military-industrial complex 8. North Korea's Nuclear program 9.
Development and production of chemical and biological weapons in North Korea 10. North Korea's Rocket and space program 11. Transport and transport infrastructure of North Korea 12. Telecommunications In North Korea 13. North Korean military doctrine 15.
Supreme military administration Bodies and the composition of the armed forces of North Korea 16. The system of recruitment and the armed forces of North Korea 17. Training of North Korean military personnel 18. Military ranks and uniforms of the Korean people's army 19. North Korea's Missile (strategic missile) forces 20. The ground forces of the Korean people's army: an overview (combat strength, weapons, and organization) 21. Operational and strategic echeloning of the ground forces of the Korean people's army 22. Air force of the Korean people's army: an overview (combat strength, weapons, organization and deployment) 23. Combat capabilities of North Korea's military aviation 24. The North Korean Navy: General overview (combat personnel, weapons, organization and deployment) 25. Combat capabilities of the North Korean Navy 26.
Special operations forces of the Korean people's army 27. Internal security Systems and border troops of North Korea 28. North Korea's Foreign intelligence service. Combat equipment and weapons of the Korean people's army (information and reference tables).
Rifles and carbines Table 4. Machine guns and automatic rifles Table 5. Anti-personnel grenade launchers Table 7.
Anti-tank grenade launchers Table 10. Anti-tank self-propelled artillery installations and self-propelled artillery installations for infantry fire support Table 13. Anti-tank missile systems Table 14.
Self-propelled launcher anti-tank missile systems Table 15. Towed field and coastal artillery Table 16.
Self-Propelled field and coastal artillery Table 17. Reactive systems of volley fire Table 19. Ballistic missiles (combat and launch vehicles) Table 20.
Anti-Aircraft machine-gun installations Table 21. Portable air defense systems Table 24.
Self-Propelled low-altitude short-range anti-aircraft missile systems of military air defense Table 25. Anti-Aircraft missile systems of object air defense Table 26. Medium and main battle tanks Table 28.
Armored combat vehicles Table 30. Crawler tractors and transporters Table 32. Military engineering equipment Table 35. Electronic weapons for air defense and ground forces Table 37.
Chemical weapons and radiation, chemical and biological protection equipment Table 38. Training and combat training aircraft Table 41.
Military transport and auxiliary aviation Table 42. Aviation small arms and cannons...
The faster you pay for the item, the faster you get it in your hand. Please, do not hesitate contacting us. If your primary address is not in English, kindly inform us your English address. All parcels that we are sending is trackable so you can see where your parcel is at the moment. Items removed from their original packing are not refundable. We will reply to your concerns in 24hours. Many thanks for your interest in our products. The item "OTH-660 The North Korean Armed Forces. Korean People's Army, Navy and Air Force" is in sale since Thursday, June 15, 2017. This item is in the category "Books\Nonfiction".
The seller is "modelgrad-com" and is located in Moscow, Moscow region. This item can be shipped worldwide.
Subject: Military & War
Country/Region of Manufacture: Russian Federation
Format: Hardcover
Publication Year: 2016
Language: Russian
Special Attributes: 1st Edition