ORIGINAL WW2 U. S. ARMY AIR FORCES SON-IN-SERVICE WINDOW BANNER c1943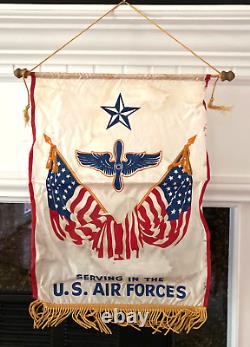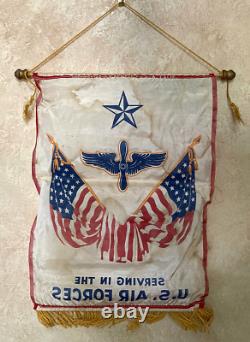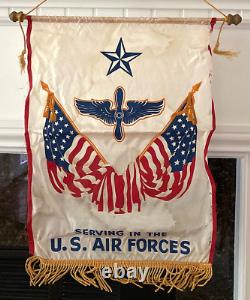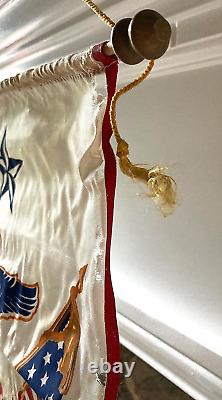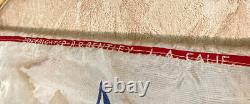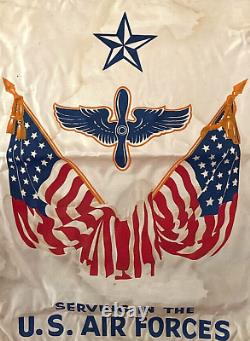 ARMY AIR FORCES SON-IN-SERVICE WINDOW BANNER c1943. WW2 SON-IN-SERVICE BANNER FOR A SERVICEMAN IN THE U. ARMY AIR FORCES, WHICH WOULD SOON AFTER BREAK OFF FROM THE ARMY TO BECOME ITS OWN BRANCH, LARGE IN SCALE AMONG SERVICE BANNER OF THIS ERA, GRAPHIC, AND EXTREMELY SCARCE. The practice of displaying a son-in-service banner became popular during WW1 U.
Families would display them in their front windows to signify the numbers of family members they had serving in the military during the war. There was one star for each family member. The flags were traditionally composed of a rectangular white field with a blue star or stars, framed by a rectangular red border. Typically, if a soldier was killed, a gold star was applied over the blue.
If other circumstances occurred, such as the soldier became a prisoner of war or missing in action, another color was used, such as purple or white. There was a whole list of colors to signify different statuses. This one dates to WW2 U. Involvement 1941-45 and varies from the norm.
The ground is white, but instead of having a rectangular red border, there is a narrow band of red to the left and right. Instead of a solid blue star, the star on this banner is pie cut and faceted in blue and white. In the lower center is a pair of crossed American flags, above and in the crux of which is a winged propeller, which was the seal of the United States Army Air Forces, printed in blue with yellow highlights. Below are the words Serving in the U.
Son-In-Service banners that include the branch of the military in which the soldier served are scarce. Those made for predecessors to the Air Force extremely scarce. Also desirable is the scale of the banner, which is significantly larger than most of this nature. MATERIAL: WHITE NYLON, GOLD COLORED STRING and TASSELS, GOLD PAINTED FINIALS ON WOOD BANNER POLE. SILK SCREEN PRINTED : RED & BLUE.
DIMENSIONS: 13 7/8" x 21" (BANNER IN HANGING POSTION) TOP OF EXTENDED STRING TO BOTTOM OF TASSELS AND FROM THE FINIAL TIP ON THE LEFT TO THE FINIAL TIP ON THE RIGHT.