Late 1940s very rare U. S. Army Air Forces Senior Combat (Aircraft) Observer wing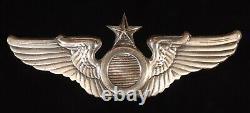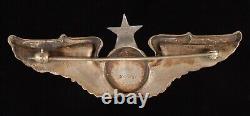 The extremely rare Senior Observer wing badge was seldom seen during wartime, and wasn't authorized until the very end of the war in 1945. This was becaus few observer/pilots were in the service long enough to meet Senior qualifications.
Among those who stayed in the AAF after the war, those who qualified got and proudly wore their wings, and Amcraft American Metal Crafts Co. Of Attleboro MA was one of the few who supplied these wings. Despite the marking, this wing was die struck in brass, which makers switched to immediatley following hostilities. 3+3/16 inches long with complete wing assembly. You will note that the star, which was applied separately, and possibly of silver, was also die struck -- probably Amcraft used the very same star for Sr.